Making Your Business Stand Out.
At Schwan & Sons Painting Company, we provide interior and exterior commercial painting services to upgrade your business or building. Our professional painters guarantee the job will be done right, on budget, and on time.
Why choose Schwan & Sons Painting Company?
When you book your painting project with Schwan and Sons Painting Company, you can have peace of mind knowing your commercial space is in good hands.
Our painters have
over 70 years
of combined
painting experience.
We are highly trained
in various painting
techniques for
superior results.
Our painting company
is covered by WCB,
and we have full
liability protection.
The Benefits of Repainting Your Commercial Space.
There are multiple reasons to update your business with a paint job. Our commercial painters are highly skilled in this field and have extensive experience working on commercial properties across Edmonton and beyond.
We Guarantee Our Work for Your Peace of Mind.
At Schwan & Sons Painting Company, we guarantee your satisfaction and the longevity of our work. As professional painters, we take pride in our work and offer a warranty for your peace of mind.
Three years for interior work: Committed to quality & durability.
Two years for exterior work: Extending our dedication to excellence outdoors.
Painting Projects to Upgrade Your Business.
Feel proud of your business by investing in interior and exterior painting from a professional Edmonton painter.
Interior Services
– Interior Walls
– Window trim
– Door trim
– Doors
– Ceilings
– Baseboards
– Mouldings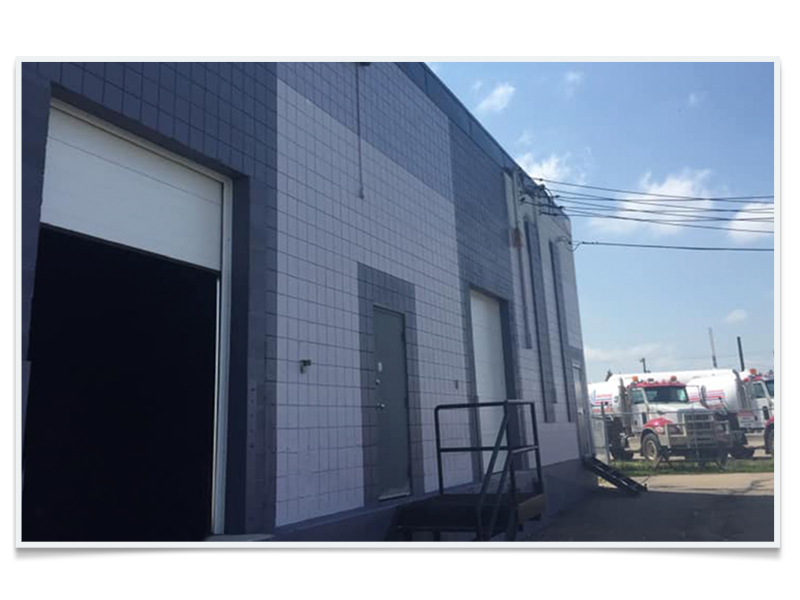 Exterior Services
– Exterior Walls
– Fences
– trim
– Decks
– Doors
– Concrete floor
– Stucco
Benefits of commercial painting:
Our commercial painters are highly skilled in this field and have extensive experience working on commercial properties across Edmonton and beyond.
Paint colours can be chosen to reflect your brand or to evoke a mood; whatever your painting needs, our experienced painting team has the knowledge and experience to get the job done.
Paint that is peeling and faded looks old and outdated and attracts the wrong attention. A fresh coat of paint goes a long way to giving your customers a good impression of your business.
Painting is a relatively inexpensive investment that can make your business stand out. Give potential buyers a good impression and add value to the selling price of your business.
Painting a new commercial premises.
If you are just starting out in business, or moving to a new commercial space, it is essential to create a professional setting for your business.
Setting the right tone for your business.
The team at Schwan & Sons Painting Company can help you create an environment that your employees and customers will love. We can help you choose neutral colours that make your staff feel comfortable, or vibrant colours for a more creative space.
Coordinating with other contractors.
It can be tricky coordinating work with multiple contractors to get your space ready for your opening. Our painters often work with other contractors and will ensure your paint job is completed on time.
The right tools for the job.
As Edmonton commercial painting contractors, we often work with specialized equipment such as scaffolding and scissor lifts. Our painters are fully trained with strict adherence to safety protocols to keep all workers, your staff, and your property safe.
Repainting your current commercial space.
Paint can fade and peel over time, and a paint job is a great way to update your premises. Our professional painters will work with you to create a result you will love with minimal disruption to your business.
We work when it suits you.
We understand that when you are running a business, it may be difficult to schedule an interior or exterior painting job without impacting your work. We try to minimize the disruption by scheduling the work during the hours that work best for you.
We take care of your space by moving furniture away from the walls and covering it with plastic for protection. We also use drop cloths to protect your floors. Once your job is complete, we will clean up and return your furniture to its original position.
The safety and comfort of your employees and customers is important to us, and that's why we can use low-VOC paint in commercial environments. These paints are healthier, and you don't have to deal with that heavy paint smell that is common with other paints.
Yes, our painters are fully insured with complete liability insurance and covered by WCB. That way, your property is covered in case of any damage, and our staff are protected from any accidents too.
The costs will vary depending on the scope of your project. We will come in and assess your property to get an idea of what needs to be done and provide you with a quote for the cost.
Our team is committed to ensuring that your painting project is done well and your paint job will be a long-term investment. We only use high-quality commercial-grade paint products that are durable and long-lasting and offer a beautiful and vibrant finish.