Professional Painter's in Edmonton.
Paint that is cracking and peeling can make your exterior look dated. The professional painters at Schwan & Sons Painting Company have extensive experience with exterior painting for residential and commercial projects. Book a consultation to discuss the next steps for your paint job.
Why choose Schwan & Sons Painting Company?
When you book your painting project with Schwan and Sons Painting Company, you can have peace of mind knowing your property is in good hands.
Our painters have
over 70 years
of combined
painting experience.
We are highly trained
in various painting
techniques for
superior results.
Our painting company
is covered by WCB,
and we have full
liability protection.
Why it Pays to Paint the Exterior.
A fresh coat of paint can upgrade the entire look of your space, especially if you paint it a different colour. Painting the exterior of your property offers several benefits.
What to Expect from Your Professional Exterior Painter.
When you hire Schwan & Sons Painting Company to paint your home, you receive the benefit of a combined 70 years of experience in the business. We truly enjoy working with our clients and transforming their space into a place they love and take pride in. Whether working with interior or exterior projects, residential or commercial, you can have peace of mind knowing you are working with some of the best painters in Edmonton.
Hire a Professional Painter in Edmonton to Update the Look of Your Property.
From exterior walls to decks and fences and garden sheds, we take care of everything!
The benefits of painting the exterior:
A fresh coat of paint can do wonders for the aesthetics of your home or business. Refreshing the exterior will improve your curbside appeal and generate a renewed sense of pride. And it's a straightforward project when you work with professionals.
Increase the value of your property.
If you are looking to sell, consider a few updates to increase its value. A new coat of exterior paint can make your property look new and well cared for, something that prospective buyers like to see. Fences, railings and decks can usually use a new coat as well.
The siding of your property is susceptible to damage from the elements; to safeguard your exteriors siding from mould and rot, it's important to repaint when the existing paint becomes weathered. Prevent the need for expensive siding replacements and repairs by taking a proactive approach.
What to expect from your professional exterior painter:
We are highly trained pros.
We have extensive training in painting techniques and paint products so we can offer our expertise on your residential and commercial project.
Friendly courteous service.
We are friendly and approachable and are committed to providing excellent customer service so you can feel comfortable inviting us to work on your home or business.
Fully insured for your peace of mind.
Our team of painters is fully protected with liability insurance and coverage with WCB, so your property is protected, and our painters are covered in the event of an accident.
The right equipment to get the job done.
We have all the necessary equipment, including scissor lifts and scaffolding, and prioritize safety on worksites by adhering to stringent safety standards.
Prepping for your exterior painting projects.
When preparing for your exterior paint project, we will start by power washing and cleaning the walls to remove any dirt and debris that has built up over time.
We sand and strip paint where needed and prime certain surfaces for better paint adhesion.
Once the surface is ready, we apply high-quality paint to your walls. We follow best practices to ensure the paint adheres properly to the surface and lasts a long time.
We will clean up the area and leave you to enjoy your newly updated home or business location!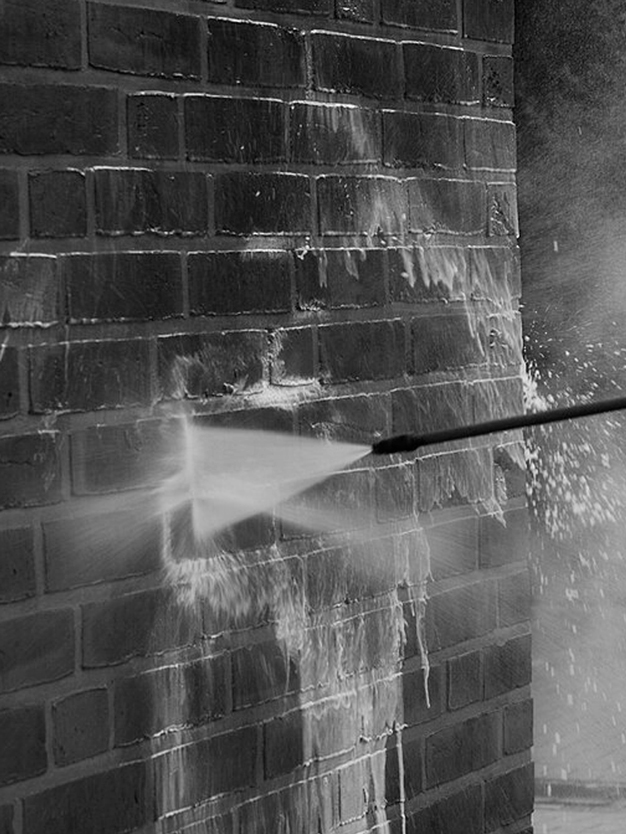 Exterior painting projects to enhance your property.
There are so many ways to beautify the exterior of your property. Many paint projects can be completed in a day with virtually no inconvenience to you.
Decks and fences can be stained with a wood sealant to maintain the natural beauty of the wood while preventing mould and rot.
Freshen up door and window trim.
Make the exterior of your property stand out by painting your door and window trim. Brick, stone, and concrete can also be painted for a completely different look!
Transform your garden shed.
Give character to your garden shed by giving it some colour. Other structures like garages and workshops can also be given a new lease of life with a fresh coat of paint.